Read more about Malala's honorary citizenship ceremony cancelled: PMO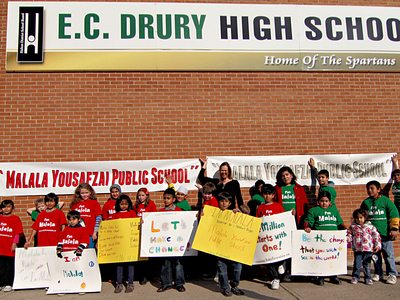 The Halton District School Board is asking for YOUR input toward the naming of a new school in Milton (currently called "Milton Public School"). The name chosen must "reflect good taste and a positive image for The Board" and the entire Milton Community.
A number of Milton's school children have united with children around the world to support the efforts of a young lady, and have now suggested that her name being used as the name of this school would meet the Board's criteria and would be worthy of your support.
Malala Yousafzai is a 15 years old girl who lives in an area of Pakistan where it's difficult for girls to get an education because of violent acts against them by the Taliban. Malala stood up to them in 2009 by writing about her experiences in a blog for the BBC, while at the same time she was strongly promoting educational rights for girls as well as human rights for all women.

She was rewarded for her efforts by being nominated by Desmond Tutu for the International Children's Peace Prize and by receiving Pakistan's "National Youth Peace Prize".

She was also rewarded by the Taliban on October 9, 2012, when they attempted to assassinate her with a bullet to the head - a bullet that has encouraged her to work even harder to help children around the world to get a good, formal education.

Currently there is an INTERNATIONALLY supported initiative, which was started, and led by prominent members of the Canadian Parliament, to have Malala honoured with the Nobel Peace Prize.

Malala Yousafzai is a young girl who has a postiive influence on children and, because of the support for her and her efforts by the International community, it would be in good taste and will be a positive effect on Milton's children to have her name associated with the new Milton school. We believe, that with your support, The Halton District School Board will also recognize and honour her by naming the new school after her.